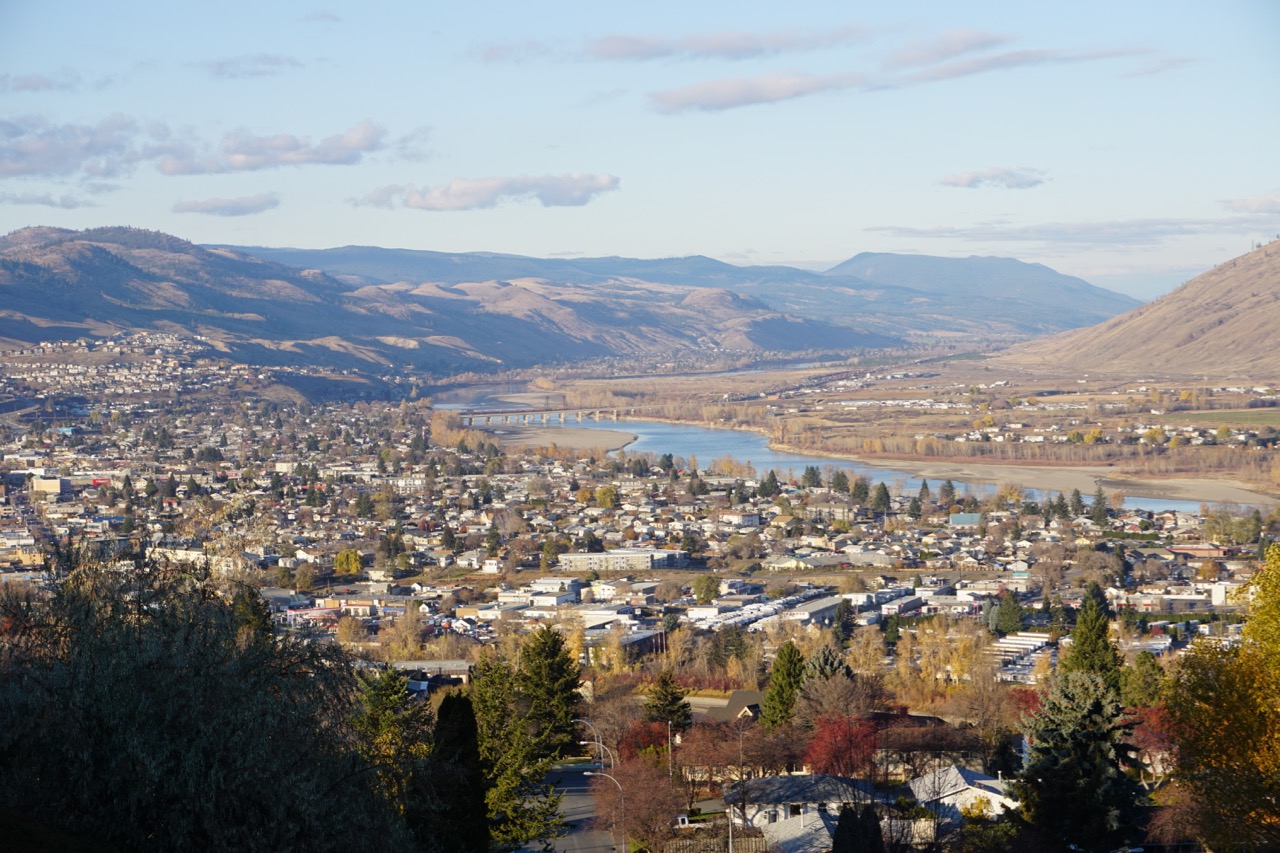 The name Kamloops translates to "Meeting of the Waters"
One's first impression of the Thompson Okanagan region is of blue skies, endless sunshine, abundant lakes and sprawling ranchland- an area of the province that offers multi-faceted recreation and an ever-expanding commercial and business sector. Just 356 kilometres from Vancouver and nestled at the junction of the North and South Thompson Rivers, the City of Kamloops sprawls along the river valleys and into the surrounding hills. These geographical boundaries provide for very unique neighbourhoods, offering everything from large flat lots to expansive sights from some of the more upper-scale view subdivisions. Kamloops, is the third largest city behind Vancouver and Kelowna with a population of some 86,000 offering a real estate market of 37,000 homes, all the amenities of big city living yet with a reputation of being one of BC's friendliest cities! (Picture)
BC's four major highways, the Trans Canada, Yellowhead, Coquihalla, and Highway 97 meet in Kamloops making it easily reached from any part of the province as well as two main-line railways and a major airport. From sport fishing to world-class mountain biking, ATV, canoeing and kayaking, horseback riding, first rate alpine skiing at Sun Peaks Resort and endless cross-country skiing, our region offers the first choice of many recreational choices.
Known as the "Tournament Capital of Canada", Kamloops plays host to any number of different tournaments and sporting events. There is something for the whole family all year long. The region enjoys over 2,000 hours of sunshine per year that supports excellent golfing on one of 10 top rated courses all within 10-20 minutes from the city's core. Kamloops boast one of the few desert golf courses, Sun Rivers Golf Resort and has also added the newest award winning golf destination Tobiano Golf Resort. There are endless miles of walking and biking trails, and to the east is Shuswap Lake, the "Houseboat Capital of Canada". See how Kamloopians re-define playtime at www.tourismkamloops.com.
In the city, you can stroll along the river, dine at one of our many fine restaurants, shop for local products and visit the weekly Farmer's Markets, visit the Kamloops Art Gallery or take in some drama at the Western Canada Theatre or ride the restored 2141 Steam Locomotive. Take the children to the BC Wild Life Park, home to over 40 wildlife species of local and endangered animals and the famous Annual Wildlights Festival every Christmas.
Kamloops is a proud and growing university city with Thompson Rivers University offering career training in law, healthcare, hospitality, trades and technology. For information on the school district's 34 elementary schools and 13 secondary schools go to School District #73.
Moving to Kamloops? I am dedicated to finding you that dream property you are searching for. Or if you are already a resident of the city and wish to down-size or up-size, I have the expertise to get your property sold!
Learn More About Kamloops
Kamloops Information
Get more information about Kamloops, its history, and what it's like to live there. Learn more about the local government, the services, recreational activities, local businesses, and the schools that service the area.
Visitor Information
Is this your first time visiting Kamloops and the interior of British Columbia? Check out these sites before you visit!
Arts & Culture
Kamloops is proud of its heritage, and supports many local artists, including fine artists, musicians, and actors.
Outdoor Activities
Kamloops is surrounded by some of the most amazing natural landscape in British Columbia, and outdoor enthusiasts have lots to keep them busy and active outside in every season, including hiking, swimming, mountain biking, and skiing.
Festivals & Events
Not only is Kamloops Canada's Tournament Capital, but there are a lot of great cultural events here every year too!
Fun & Recreation
There's lots to do in Kamloops, and plenty of fun to be had for the entire family. Here are some of our favourites.